Drone And LiDAR Technology: British School of Aviation Welcomes A YellowScan 'Demo Day'
Here is what happened when we tried out this cutting-edge drone technology.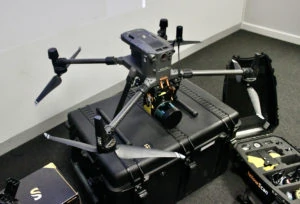 YellowScan is a specialist UAV designer, developer, and manufacturer based in Montpellier, France.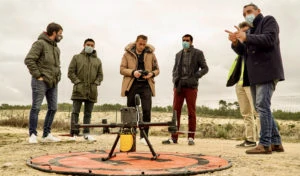 WHAT IS LIDAR?
LiDAR is a remote sensing method and technology that employs laser beams to measure elevation at ground level, which is often the result of either forests or an industrialised landscape. LiDAR is an acronym for 'Light Detection And Ranging'. It is also (less commonly) referred to as 'Laser Scanning' or '3D Scanning', because the primary objective of LiDAR is to scan and survey environments in order to collect data about the landscape. This takes place through an assessment of the time that it takes for reflected light to return to the receiver. The data captured will then be presented in 3D form, and utilised for 3D modelling purposes. A LiDAR's laser will utilise ultraviolet, visible, or infrared sources for detector efficiency to sense objects and capture data. Furthermore, LiDAR systems are designed to emit a wave that does not interfere with other sensors. Therefore, a typical LiDAR will emit rapid eye-safe pulsed light waves into the surrounding environment to map out the surface of the earth. Overall, LiDAR methods are employed to determine ranges within a landscape by targeting an object or area with a laser. Visually, the LiDAR system is fitted onto an appropriate drone and then flown by the UAV device.
LiDAR methods are employed to determine ranges within a landscape by targeting an object or area with a laser.
WHAT ARE THE PROFESSIONAL APPLICATIONS OF LIDAR SYSTEMS?
Every LiDAR system is unique in that they all possess differing capabilities. As a result, the usage of an individual LiDAR system depends on various factors including; the data precision expected, tree heights, and terrain relief in the area of prospective operation. LiDAR is a particularly effective technology to harness due to its ability to penetrate through vegetation – whilst photogrammetry systems cannot. Therefore, LiDAR has many professional applications. The technological applications of LiDAR  systems are diverse and increasing, because they can be used to create accuracy and efficiency within numerous fields, predominantly; the environmental, archaeological, construction, and civil and aeronautical engineering industries. For instance, LiDAR systems can survey rugged and vegetation-covered landscapes to create high resolution digital surfaces, terrain, and elevation models which can be used for various business and public sector applications.
YELLOWSCAN'S PORTFOLIO
YellowScan offer a vast portfolio of LiDAR systems. All of their LiDAR devices allow for quick and complete acquisition of an entire project, whilst eliminating on-the-ground logistics and hazards. In a nutshell, employing a YellowScan LiDAR system to conduct an airborne survey generates a very detailed 3D image that accurately depicts the landscape under surveillance. This will be incorporated into a CAD/GIS system for 3D modelling and analysis purposes. The flexibility of YellowScan's LiDAR's accounts for certain areas to be re-scanned as frequently as needed.
All YellowScan drones are lightweight, compatible with difficult field conditions and temperatures, fully integrated with embedded batteries, easy to set up and use by non-surveying professionals, compact, and adaptable to any UAC platforms. Overall, YellowScan LiDAR systems can provide for diverse surveying needs for aerial 3D mapping, and do not require for the UAV operator to rely on third-party experts or professionalised drone pilots.
LiDAR systems can survey rugged and vegetation-covered landscapes to create high resolution digital surfaces, terrain, and elevation models which can be used for various business applications.
THE 'DEMO DAY'
YellowScan's Surveyor Ultra LiDAR system fitted onto a DGIN300 drone was the device of the day, and why not, as it was by far the most impressive UAV that many of us had ever seen. The drone sat at the front of the classroom we had gathered in and resembled a large black spider in form. To no surprise, the system proved to be equally agile with laser-sharp vision. The diverse usage of this particular LiDAR system means that it can be employed for any purpose that will require the specific degree of data capturing technology that this device can provide. To gain a deeper understanding of where this LiDAR system is likely to be put to use, I asked Joe, a senior drone technician at Aetha, for further information. Joe informed me that among other uses, this device will be predominantly used within the forestry industry; due to its ability to see through tree canopies.
Julien, a leading figure within YellowScan's Montpellier team, led the presentation. After telling us about the history of the company, Julien articulated how deeply the YellowScan team care about the quality of their client's experiences with their products, and their engagement with the company.
At present, it is alarmingly easy to buy a drone online and follow internet tutorials on how to operate it. In untrained hands, and without compliance towards rules and regulations, UAV systems can cause all sorts of havoc. YellowScan are very alert to this by-product of the commercialisation and popularisation of drones, and as a result, prioritise the training and development of their UAV operators. Whilst the YellowScan's LiDAR systems are easy-to-use, and can be flown without the assistance of an expert UAV pilot, YellowScan still see it to be imperative to prioritise the training and safety of the user. As a result, Julien emphasised that YellowScan care deeply about their clients and have set up teams in numerous countries accordingly in order to offer localised training and support to their customers and distributers. Furthermore, the YellowScan team are also on hand to help organisations and businesses utilise their integrated UAV systems, which enables their clients to focus on creating successful and safe LiDAR experiences.
After the introductory presentation and question and answer session, we all drove to nearby Wheathampstead to witness the Surveyor Ultra in action!
At British School of Aviation, we are proud of the convenient location of our facility, which allows for our UAV students to be in a suitable countryside environment for practical training flights within minutes.
According an application called UAV Forecast, that we had used to make predictions on the day's condition of flight dependent on meteorological data, the wind was too strong for the Surveyor Ultra to comfortably fly for a long period of time. On top of that, it had started to rain heavily. However, drone technicians and engineers from Aetha Global were determined to get YellowScan's LiDAR system up in the air, even just for a brief few minutes. Eventually, YellowScan's Surveyor Ultra managed to fly and scanned some high-quality shots, even in the poor weather conditions. After the demonstration, we retreated back to the warmth and comfort of British School of Aviation to assess and review the data captured.
After a much-needed round of tea and sandwiches, we returned to the classroom for one final presentation, which reviewed the terrain data that had been captured and converted into 3D form.
Overall, YellowScan gave us a strong pitch to the usefulness of LiDAR and drone technology, which are predicted to become commonplace in our daily lives via medicinal and post deliveries. The 'Demo Day' was also successful in conveying the effectiveness of LiDAR technology in capturing data for archaeological and for civil engineering pursuits. I have no that that advanced LiDAR systems, such as YellowScan's Surveyor Ultra will progress numerous industries. Even now, many unassuming businesses are keen to begin incorporating LiDAR systems into their operations, and taking advantage of their many benefits. The accuracy, efficiency, and dependability of the LiDAR system makes it a key player in our rapidly changing and advancing world that seeks to capitalise on technological innovations, and the way that they can help our societies. In conclusion, the Surveyor Ultra has real value, and you will definitely be hearing more about it!
INDUSTRIES THE LIDAR IS MOST USED FOR
LiDAR systems are typically applied to the forestry, archaeology, civil engineering, mining, and construction industries.
FORESTRY:
When employed to scan forestry, the LiDAR system can capture data on tree inventories, biomass estimations, and tree height measurements; which are all crucial statistics to have for both commercial and government forestry activity. In a nutshell, forest management requires detailed data in order to make informed decisions on conservation, the environment, housing, and industrialisation. Whilst photogrammetry can be a useful tool for identifying species of tree, it does not provide sufficient accuracy for inside-canopy information, and it does not reveal the terrain under dense vegetation. On the other hand, LiDAR systems can be used to plan the trimming of vegetation using 3D data, or to investigate what changes the landscape has previously been through.
ARCHAEOLOGY:
When employed for archaeological purposes, LiDAR systems can capture data on a landscape that may have ruins buried under vegetation and natural development. This will encourage excavation projects to be pursued, and as a result, findings that can inform us about the history of a region or group can be discovered. Fundamentally, LiDAR systems help archaeologists explore inaccessible areas like landscapes with dense vegetation and rugged terrain. Consequently, LiDAR systems can even help to map the remains of iron-age settlements which will be located under centuries of vegetation on an uneven landscape. Additionally, airborne surveys can be carried out using any of the YellowScan LiDAR systems, which help to identify ruins under dense shrubbery and allow for an overview of a historical site. In attendance at our 'Demo Day', was an archaeologist who had been involved with excavation projects at StoneHenge, and was now keen to learn about new LiDAR technologies and how they can assist him in his professional activities.
CIVIL ENGINEERING:
When employed for civil engineering purposes, LiDAR systems can support development plans for building, power lines, and backfill, and can follow construction sites and stockpiles with real-time aerial imagery. LiDAR systems can provide data to manage day-to-day raw material stock, cut & fill volumes, and site arrangements. Nowadays, civil engineering firms are using LiDAR systems to conduct feasibility studies, earthwork planning (quantity survey, mass excavation, and structural excavation), and to calculate the volume of excavated earth or the construction materials that need to be used for operations. Overall, LiDAR systems can collect massive 3D data in a short amount of time, and with far less manpower requirements. However, on occasion prime road and rail corridors require for preliminary topographic studies to be conducted in order to map out the best routes of action, and to assess prospective impact on the existing infrastructure and environment in order to plan for ground clearing and temporary access roads.
MINING:
When employed for mining purposes, LiDAR systems are able to assist with the management of raw material inventory and site development by providing accurate data.
CONSTRUCTION:
Professionals in the construction industry are using LiDAR systems to conduct as-built surveys which create accurate plans and documentation, to monitor and anticipate construction impacts. In this case, LiDAR systems can also record conditions at any stage of the construction project. 3D LiDAR mapping has become very important in the construction industry because it offers a wealth of data whilst simultaneously cutting company costs. Whether it is to create a Digital Terrain Model (DTM), Digital Surface Model (DSM), or a Digital Elevation Model (DEM), construction firms and civil engineers are using LiDAR systems for diverse projects. The point clouds produced by LiDAR systems can be used to produce BIM models (Building Information Modelling). These BIM models contribute to real-time construction quality-control and decision-making.
THE IMPORTANCE OF DRONES
It's hard to believe that a little flying robot can monitor large crowds, carry medicine, deliver mail, provide data to create 3D images, transmit live images to television, offer filmmakers another dimension in incredible clarity, cause havoc at events or airfields, and be able to intercept public life by either speeding it up or bringing it to a standstill. Whether you regard drones to be futile gadgets or powerful innovations, they deserve our attention. Drones have truly transformed the way that humans operate and view the world around them.
According to research published in Business Insider, the drone services market is expected to grow to $63.6 billion dollars by 2025.
This appears entirely plausible when taking into consideration the fact that sales of consumer drones in the United States exceeded $1.25 billion in 2020 due to more affordable drones becoming increasingly popular for recreational use. For instance, competitors to drone giants like DJI are producing similar models for a fraction of the cost, consequently encouraging hesitant consumers to purchase their drones.
The drone services industry has been steadily growing since 2014 when the US military began spending an extra $5 billion annually on drone technology, thus signifying the pending impact and importance of drones.
In November 2020, MIT revealed that at least 80 nations can now deploy remote-controlled drones. Overall, drones have had an undeniable impact on the way that human society functions.
Drones have become a principal component of daily operations in industries such as; journalism, insurance, law enforcement, construction, media production, agriculture, mining, arms, and of course aerospace and aviation.
WHAT EXACTLY ARE DRONES AND HOW DO THEY WORK?
An unmanned aerial device, vehicle, system, or machine is colloquially referred to as a 'drone'.
A drone is an aircraft without a human pilot onboard, yet drone flights are controlled by remote human operators. Drones function through an accumulation of technologies including computer vision, sensors, and object avoidance technology.
A BRIEF HISTORY OF DRONES
It can be asserted that the earliest drone-esque device was the 19th-century invention of a balloon carrier. Much like the drones of today, balloon carriers functioned as vehicles that allowed humans to observe or to deliver ammunition.
In 1917 Britain tested the Aerial Target, which was a small radio-controlled aircraft. The following year, America first flew an aerial torpedo. Neither device was used operationally during the period of wartime in which they flew, but they represent further advances in the drones' journey from the 19th-century to the present day.
Historians such as Spencer C. Tucker and Priscilla Mary Roberts regard the Israeli Tadiran Mastiff to be the first modern surveillance drone; due to its ability to feed live video footage of its targeted area to its operators.
CONTEMPORARY USES OF DRONES
 At present, the term drone has been injected into common parlance, and drones themselves serve multiple purposes within society. They are predominately used for streaming optical images, collecting data, and accumulating information.
Consequently, in a world where we value the collection and dissemination of data, drones have taken centre stage. Functions including the collection of images and data can be applied to different operations. For instance, a drones' thermographic imaging, not to mention its ability to collate data on location and altitude can shed light on newfound ways to observe animals, their habitats, and conservations.
On the other hand, military drones can be applied to law enforcement, and are often employed by defence organisations when policing large areas and surveilling borders. Furthermore, drones are now utilised in efforts to track diseases, and perhaps their best-known use is that of allowing the public to examine the enduring conflicts and war zones taking place on foreign soil. Technological advances have paved the way for the normalisation of fleets of drones being operated by a sole individual's smartphone. Additionally, increasingly sophisticated designs have inhibited drones from blaring disrupting noises or slipping into malfunction.
The fact that industrial drones are used to inspect production sites, deliver the post, forecast extreme weather and examine the full extent of a storm or tsunami's impact cements the fact that drones have become extremely helpful in assisting humans with problem-solving. For instance, unmanned aerial systems with fitted thermal imaging cameras have been able to support emergency response teams in finding and identifying victims. Similarly, police drones with outfitted lasers are able to assist in locating the bodies of murder victims.
Due to the 2014 emergence of Zipline – an American medical product delivery firm that specialises in manufacturing delivery drones – it can be assumed that in the near future drones will regularly be used to deliver medicines and first aid kits to the wounded in war zones, or perhaps drones equipped with high-quality cameras could allow doctors to remotely examine injured civilians.
On the other hand, remote war-fighting technologies could potentially prevent civilians from being injured, and lessen indiscriminate bombings, or de-escalate global tensions.
Taking this into consideration, we can predict that drones will be used as food delivery vehicles that intend to provide impoverished regions with fresh food and clean water. On a smaller scale, drones could be employed instead of courier vans to deliver online shopping orders to customers which would reduce road traffic and air pollution.
Overall, an intensified use of drones could change the world, support humanitarian initiatives, and save lives.
DRONES AND EVTOL
One of the most significant breakthroughs of modern times has been that of eVTOL, not because of its current disruption of how human society functions but due to its future possibilities.
eVTOL has been projected to become commercially viable in the coming decade, with concept aircrafts, futuristic air roads, battery innovations, and 'flying cars' all becoming hot topics of discussion within the tech and aviation industries.
In Britain, plans are underway for the world's first airport for flying taxis to be constructed in Coventry and the project has received extensive government backing. With drones also being zero-emission electric vertical take-off and landing aerial vehicles, they are often regarded as being in the same category as eVTOL aircraft.
With these once abstract concepts becoming increasingly tangible, drones are set to become even more useful and important in public life.
MORE HINDRANCE THAN HELP
Drones have transformed quite a few aspects of everyday life from television coverage to building surveys to construction site monitoring to weddings.
Much like any other powerful innovation; in the wrong hands, things could easily go array.
Misbehaving drones have the power to invade privacy, halt events, loiter around commercial airfields, and disrupt air travel and flight safety. In retaliation to numerous drone incidents at UK airports and unlicensed drones generally causing havoc in airspace, the British government declared it illegal to fly a drone within 5KM of an airport in March 2019. In an effort to minimize the impact that drones have on operating airports there are now Flight Restriction Zones in place specific to drones.
Overall, drone technology has become more reliable over the years and advanced enough to complete complicated tasks efficiently and without fault.
WHY YOU SHOULD TAKE A DRONE COURSE 
Confused as to why anyone should bother with a drone course when drones can be purchased anywhere and tutorials exist online, I consulted the Head of UAS Training at BSA, John Moreland, for his input on BSA drone courses and general drone conduct.
John stated that an untrained drone operator could end up causing all sorts of havoc (as evidenced in the disruption of airports and football matches that frequently emerge in the news).
Drones can be operated for personal enjoyment if they are under 4 kilos.
John suggests that BSA drone courses are practically essential when utilising drones for business purposes. John continues that numerous large firms that use drone services require employees to complete a GVC course. On completion of an accredited GVC course, a person will get approval from the CAA and will make it onto their list of approved UAS operators.
Buying a drone is easy, but there must be a few pre-requisites and checks that need to be made before flights.
BSA offers a range of training courses that can guide a complete novice through to being a competent and responsible drone pilot, ensuring that the latest UAV rules and regulations are understood and that safety is paramount.
John continues that any training should be a mixture of theory and practicality. The Drone Introductory Course is a perfect example of this because its practical session includes hands-on experience under the watchful eye of the course instructor.
Secondly, John states that the CAA places an emphasis on the drone operator and the remote pilot to determine where, when, how, and what they do with the drone and whether they understand the environment they are flying in.
With any drone with a camera or over 250 grams, the pilot should consider one or both the next-level courses that BSA offers. These are the A2 Certificate of Competency (A2 CofC) or the General VLOS Certificate (GVC).
Both courses are brilliant for individuals who wish to operate in environments that are close to other people, like in construction or development zones. Throughout these courses, the focus is on the risk that the drone can present to third parties, particularly to people on the ground are referred to as "uninvolved persons", and the more "uninvolved persons" likely to be in the same parameter as the drone, the more problems that are likely to occur whilst operating in that environment. Both of these courses place an emphasis on having the right CAA competency, oversight and authorisation.
The current regulations are not the easiest to understand and interpret but BSA's course instructors are very experienced and lead the discussion on what is or isn't considered acceptable under certain circumstances.
The emphasis is on complying with the rules on drone safety, to ensure that "uninvolved persons" are not accidentally injured by your drone.
Clients and sometimes landowners like the assurance that there is CAA oversight: the CAA has 'authorised' the operator to conduct drone operations under a set of pre-defined risk conditions. The GVC has a more professional standing than the A2 CofC, and the GVC course at BSA presents the opportunity to make the drone pilot more aware of potential hazards and how to mitigate some of the risks that might be present during a flight.
In the future BSA hopes to be able to conduct Remote Pilot Licence courses for certified operations.
Additionally, the GVC course teaches drone operators how to contact control towers, share their flight plans and gain permission to fly in certain restricted areas. The GVC certificate can allow for drone operations within an airport's airspace.
John compares drone training to manned aviation pilot training by analogously stating that flying a drone recreationally is like holding a PPL, but to become a safer and more professionalised pilot you would need to sit a CPL or ATPL.
Overall, John argues that face-to-face drone courses should not be overlooked or brushed aside for a short YouTube tutorial. Having a sound practical understanding of the drone and the environment it's being flown in is extremely important for safety reasons.
TAKE A DRONE COURSE AT BRITISH SCHOOL OF AVIATION
Do you want to obtain a UK-CAA-approved certificate and progress into the professional drone world but don't know where to start?
British School of Aviation's drone courses are ideal for those intending to utilise drones for business purposes.
Buying a drone is easy, but there must be a few pre-requisites that need to be made before flights.
British School of Aviation offers a range of training courses that can guide a complete UAV novice through to being a competent and responsible drone pilot – ensuring that the latest UAV rules and regulations are understood, and that safety is paramount.
British School of Aviation's done courses are brilliant for individuals who wish to operate in environments that are in close range of other people, such as within the construction industry or in development zones.
Throughout these courses, you will focus on the risk that the drone can present to third parties, particularly to uninvolved persons on the ground.
All of our drone courses place an emphasis on having the right CAA competency, oversight, and authorisation. The current regulations are not the easiest to understand and interpret, but our industry-leading instructors lead the discussion on what is or isn't considered acceptable under certain circumstances within contemporary drone operation.
British School of Aviation has achieved a CAA-approved Recognised Assessment Entity (RAE) status for training commercial drone pilots, enabling them to achieve their GVC competency – General VLOS (Visual Line of Sight) Certificate.
DRONE PILOT INTRODUCTORY COURSE:
Our Drone Pilot Introductory Course is ideal for anyone who wants to learn how to fly a drone – or become a safer drone pilot. Overall, this course is perfect for anyone who aspires to take their first step towards becoming a professional drone pilot.
Our Drone Pilot Introductory Course seamlessly mixes classroom-based theoretical knowledge lessons with practical training sessions. The latter of which includes hands-on experience under the watchful eye of our experienced course instructor, John Moreland.
This course runs throughout 2021 and 2022 and is typically on sale for £99.00. This course can be purchased via our website. Alternatively, you can contact us via email at info@BSA.world to register your interest.
THE GVC – GENERAL VISUAL LINE OF SIGHT (VLOS) CERTIFICATE COURSE:
This course is ideal for aspiring commercial drone operators. Our GVC (General Visual Line of Sight VLOS) Certificate helps recreational or even professional UAV operators achieve their CAA-approved certificate of competency.
This enables them to conduct Small Unmanned Aircraft (SUA) operations.
The GVC provides the qualification for VLOS operations and is valid for a period of 5 years.
With any drone – that has a fitted camera or is over 250 grams in weight – the UAS pilot SHOULD consider our (GVC) General VLOS Certificate Course.
Our GVC presents the opportunity to make drone pilots more aware of potential hazards and informs them of ways to mitigate the risks that might be present during a flight.
Our GVC is sold as an intensive 3-day course, which includes 2 days of classroom-based theory, an online examination, and 1 day of practical training in a suitable location either in Tring, Wheathampstead, or Harpenden in Hertfordshire.
Our GVC runs throughout 2021 and 2022. Please register your interest in this course by emailing us at info@BSA.world or calling our admin team on +44 1582 737 888. Our team will contact you with upcoming course dates as soon as they are confirmed.
After booking your place on this course, you will receive a welcome pack with the required study information and materials. We will then arrange for our Head of Training to call you and make sure you know what is required at your end, as well as how we can help you to achieve your particular goals within the industry.
PRE-ENTRY REQUIREMENTS FOR THE GVC:
Flyer ID or Operator ID – as appropriate.
Have completed the UK CAA Drone Education Online Service.
A Drone registered with the UK-CAA.
Drone Insurance.
A laptop or tablet.
Be 18 years of age or older.
Our next GVC is typically on sale for £598.99. This course can be purchased via our website. Alternatively, you can contact us via email at info@BSA.world to register your interest.
Curious about what life at British School of Aviation is really like? Check out our blog post HERE to learn more about what studying at British School of Aviation is like!
HOW TO CONTACT US
Location: We are located in the Airport Executive Park at London Luton Airport (LTN). Please feel free to drop in on any weekday and a member of staff will be happy to show you around.
Parking: Our free car park is located right in front of our academy.
Email: For all inquiries please contact us at info@bsa.world.
Telephone: To reach our reception please dial +44 1582 737 888. Calls should be made between 9.00 and 17.00 Monday's to Friday's.
Website: www.britishschoolofaviation.com.
SOCIAL LINKS
British School of Aviation is active on social media! Please give us a follow on one of the platforms below, or use the #LifeAtBSA to feature on our Instagram!
Instagram: @BritishSchoolofAviation.
Twitter: @BSASchool.
Facebook: British School Of Aviation.
LinkedIn: BSA – British School of Aviation.
TikTok: @BritishSchoolofAviation
_
Melissa Fleur Afshar
Content and Media Manager at British School of Aviation